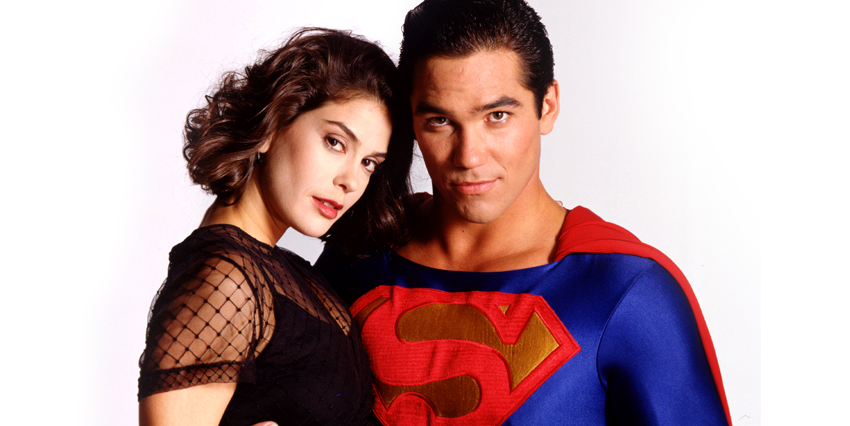 "Lois & Clark: The New Adventures Of Superman" – ABC 1 Hour Drama/Series
Composer – Jay Gruska
It's very nice to be a small part of the giant pantheon of Superman.  The first movie had one of my favorite scores ever, so having to come up with the main title theme for the TV series in a week or so was daunting – on the flip side, recording it with the 55 piece orchestra was joyous.  This series also started a long time collaboration with writer/director/producer Robert Singer, who I'm both proud to work with and for, as well as calling him friend.  Also, thank you to the many fans of the show who have both emailed me over the years, or posted positive comments on Amazon about the soundtrack CD, (except for a couple of disgruntled types–they have the right) I'm always grateful for someone's appreciation.
I did 88 episodes and Superman flew in every one.  Imagine that.
The last 3 entries here are songs I co-wrote and produced for the series.
EMMY NOMINATION FOR BEST MAIN TITLE THEME MUSIC – 3 GOLDEN REEL NOMINATIONS-MUSIC

| Play | Buy | Track | Album | Length | Date Posted |
| --- | --- | --- | --- | --- | --- |
| | BUY | Main Title Theme | Lois & Clark: The New Adv. Of Superman | 1:00 | EMMY Nominated |
| | | First Flight | Lois & Clark: The New Adv. Of Superman | 1:13 | Orchestral |
| | | Love Theme | Lois & Clark: The New Adv. Of Superman | 1:59 | Orchestral |
| | | Evil Lex | Lois & Clark: The New Adv. Of Superman | 2:08 | Orchestral |
| | | The Starship | Lois & Clark: The New Adv. Of Superman | 0:43 | Orchestral |
| | | Main Theme Teaser | Lois & Clark: The New Adv. Of Superman | 1:13 | Orchestral |
| | | What's Brewing | Lois & Clark: The New Adv. Of Superman | 1:30 | From the Pilot Episode |
| | | Soaring Home | Lois & Clark: The New Adv. Of Superman | 1:28 | From the Pilot Episode |
| | | "Simple Truth" -- Song | Lois & Clark: The New Adv. Of Superman | 3:40 | J. Gruska/P. Gordon |
| | | "Always Flying Somewhere" -- Song | Lois & Clark: The New Adv. Of Superman | 3:59 | J. Gruska/M. Sherwood/J. Robinson |
| | | "Windtossed" -- Song | Lois & Clark: The New Adv. Of Superman | 4:41 | Music - J. Gruska / Lyric - R. Singer |